October 29, 2019
Now you can make the most EPIC bolognese sauce in just 1 hr rather than 3-4 hrs! So rich, hearty, and chockfull of meat and veggies!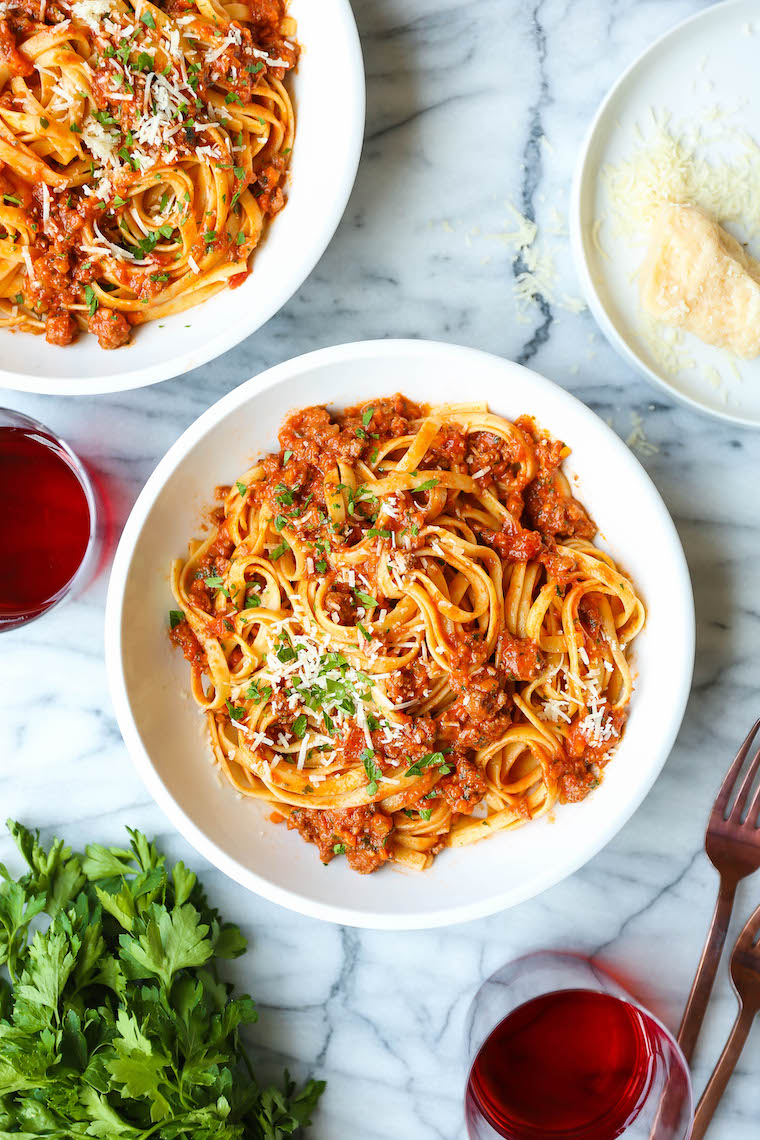 There's honestly nothing better than this.
A giant bowl of pasta smothered in the meatiest, heartiest bolognese sauce ever, sprinkled with freshly grated Parmesan and paired with a glass of red wine.
Nope, nothing better, especially in this cold Chicago fall season we're having right now.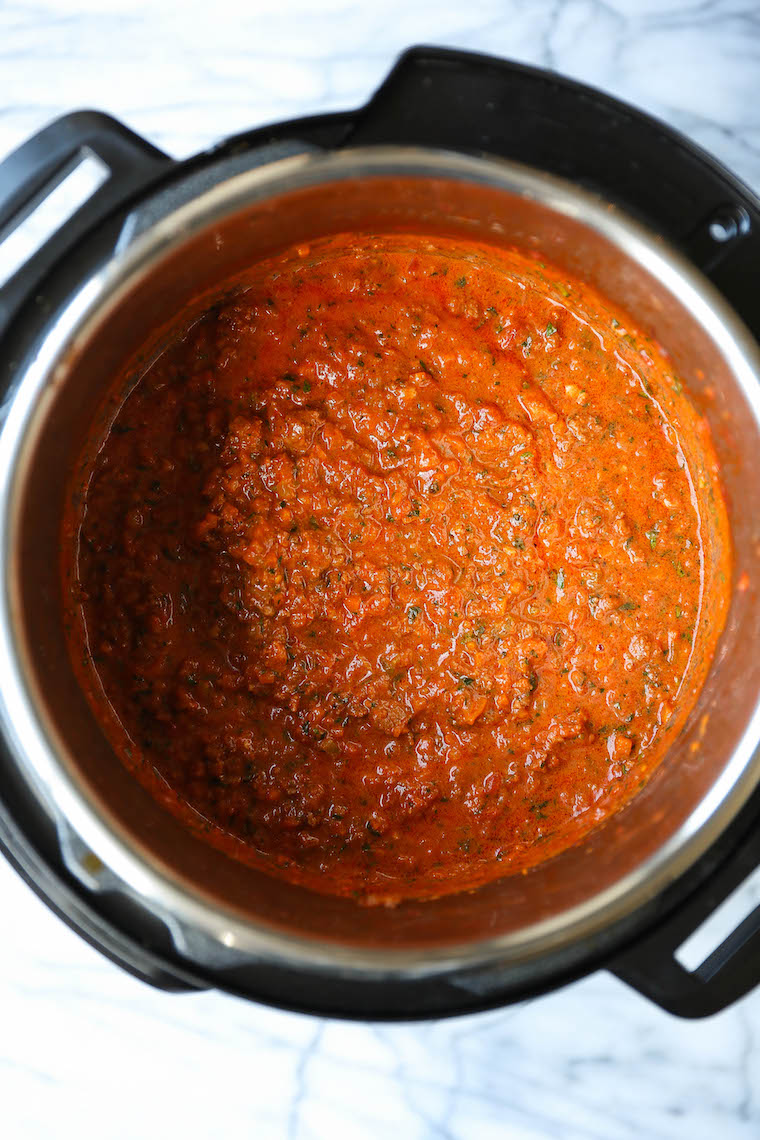 And that vat of bolognese? Yes, I'll take that in one bath, please.
That vat is conveniently the Instant Pot, which helps cook the bolognese in just 1 hour. I know. No more 3-4 hour bolognese sauces. The pressure cooker makes this too easy and fast, and it infuses the flavors even more, making this my all-time favorite bolognese sauce.
It's also enough for 8 servings so it's perfect for company or for leftovers because let's be honest – it's too cold to go out to eat right now!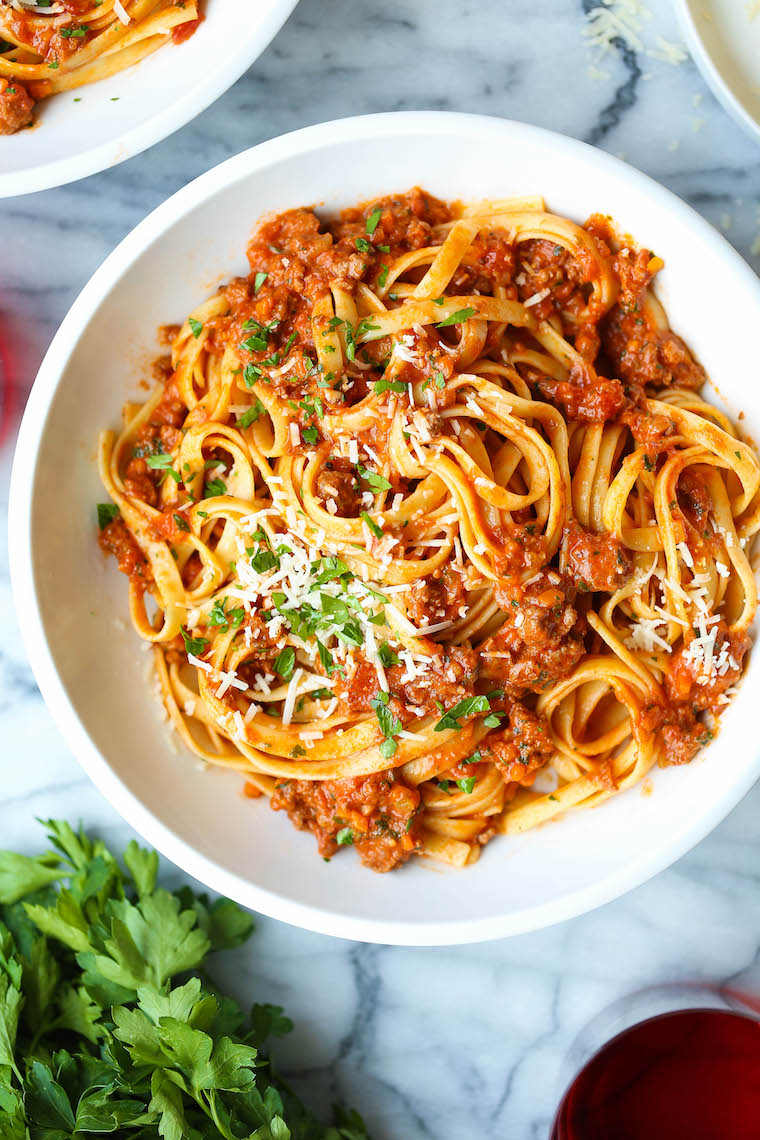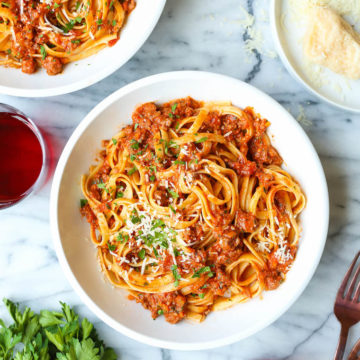 Instant Pot Bolognese
Now you can make the most EPIC bolognese sauce in just 1 hr rather than 3-4 hrs! So rich, hearty, and chockfull of meat and veggies!
entree
Instant Pot Bolognese
20 minutes1 hour
Chungah Rhee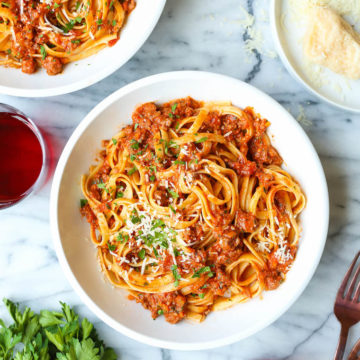 Ingredients:
1 1/2 tablespoons unsalted butter
1 sweet onion, diced
1 carrot, diced
1 celery rib, diced
1 pound lean ground beef
1/2 pound ground pork
4 ounces pancetta, diced
Kosher salt and freshly ground black pepper, to taste
1/4 cup tomato paste
3 cloves garlic, minced
2 teaspoons dried oregano
1/4 teaspoon crushed red pepper flakes
Pinch of ground nutmeg
Pinch of ground cinnamon
3/4 cups dry red wine
1 (28-ounce) can crushed tomatoes
1/2 cup beef stock
1/4 cup heavy cream
2 tablespoons chopped fresh parsley leaves
Directions:
Set a 6-qt Instant Pot® to the high saute setting. Melt butter; add onion, carrot and celery, and cook, stirring often, until onions have become translucent, about 3-4 minutes.
Add ground beef, pork, pancetta, 1 teaspoon salt and 1/2 teaspoon pepper, and cook until browned, about 5-10 minutes, making sure to crumble the beef and pork as it cooks; drain excess fat.
Stir in tomato paste, garlic, oregano, red pepper flakes, nutmeg and cinnamon until fragrant, about 1 minute.
Stir in wine, scraping any browned bits from the bottom of the pot, and cook until reduced, about 2 minutes.
Stir in crushed tomatoes and beef stock. Select manual setting; adjust pressure to high, and set time for 20 minutes. When finished cooking, quick-release pressure according to manufacturer's directions.
Select low sauté setting; simmer, uncovered, stirring often, until thickened to desired consistency, about 5-10 minutes. Stir in heavy cream and parsley; season with salt and pepper, to taste.
Serve immediately.
Did you Make This Recipe?
Tag @damn_delicious on Instagram and hashtag it #damndelicious.